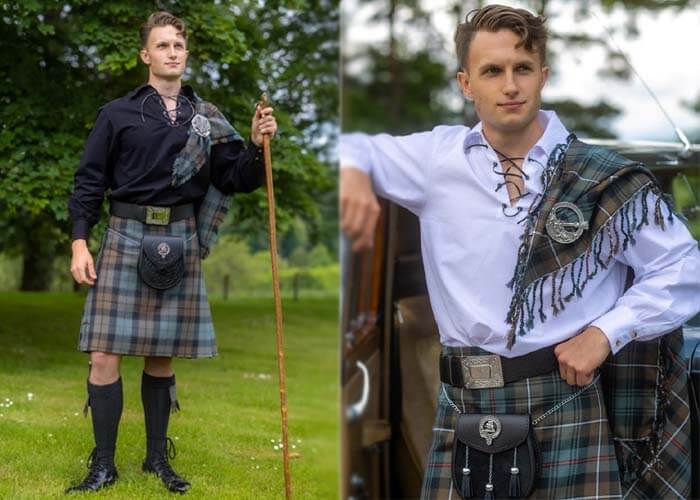 Kilts are a timeless fashion choice that have been around for centuries. With their modern resurgence, many people are now wearing them in everyday life and for special occasions. But when it comes to deciding what shirt to wear with your kilt, the options can be overwhelming! From traditional tartan shirts to bold statement pieces, this article will explore the best shirts for a variety of kilt styles and occasions.
Wearing a Kilt
A kilt is a traditional garment native to Scotland, and the outfit options for styling it are endless. Whether you're looking for a casual or formal look, knowing what shirt to wear with your kilt can make all the difference in your appearance. This article will provide guidance on which shirt works best with a kilt depending on the occasion. We'll discuss different top options as well as any accessories you may want to add.
Types of Kilts
When it comes to traditional Scottish attire, the kilt is always the showstopper. Whether you're attending a formal occasion or just trying to make a statement on the town, wearing a kilt can be intimidating if you don't know what shirt to pair with it. Making the wrong decision when selecting your shirt can ruin an otherwise perfect and polished look. Fortunately, there are many options for shirts that will compliment your kilt and create a stylish ensemble for any event.
See here: Men's Kilts Traditional & Modern Styles in 2023
What Color Shirt to Wear?
The first decision to make when considering a shirt for your kilt is the color. The traditional color for formal Scottish attire is black, but you can also choose from white or even blue if you're looking for a more casual look. For a formal event, a white shirt is an excellent choice because it will make you look more put together and professional. While some people think that wearing black to a formal event is too informal, wearing a white shirt with your kilt will give you the appearance of a true gentleman. A black shirt is also a good choice if you're wearing your kilt to an informal event. Pairing your kilt with a black shirt will make it seem more like regular clothing and less formal, so the outfit will be more appropriate for a situation that doesn't require as much decorum.
Shirt Material
Make sure that your shirt is wrinkle-resistant and made of a fabric that will stay soft and comfortable against your skin. Linen shirts are especially popular for kilted men because they're easy to wash, easy to wear, and relatively inexpensive. Wear a shirt with short sleeves if you're kilt is sleeveless, and make sure that your shirt has at least two pockets. Your kilt will already have numerous pockets, so it's important to add some extra ones in order to keep the rest of your belongings organized.
Shirt Style & Fit
When choosing a shirt to wear with your kilt, make sure that it matches the style of your kilt. If your kilt is plain and unembellished, you can wear an equally simple shirt. If your kilt is plaid, make sure that your shirt also features a tartan. If you're wearing a tie with your kilt, make sure that it matches the color of your kilt and the rest of your outfit. If you don't want to wear a kilt, you can still get away with wearing a shirt and tie. Make sure that the color of your tie matches the color of your kilt and your shirt, as well as the color of any tartan on your kilt.
Accessories to Consider
If you are wearing a kilt, you will not need to worry about shoes or socks. If you choose to wear a shirt and tie, however, you might want to consider accessories such as ties, suspenders, neckties and even pocket squares.
What Should I Wear?
When considering what to wear to a wedding, you should consider all of the attendees. If you are not close friends or family with the bride and groom, you will probably want to be more conservative in your attire than those that are. If you are friends or family, you will want to be sure not to wear anything that would make the bride and groom uncomfortable. If you are unsure of what to wear, it is best to ask the bride or groom ahead of time.
What's New?
What is the latest in wedding fashion? The following are some of the latest trends in wedding fashion:
Tuxedo Trousers: Many people are going back to wearing black tuxedo trousers with their tuxedo instead of a traditional tuxedo skirt. Many people are going back to wearing black tuxedo trousers with their tuxedo instead of a traditional tuxedo skirt. Colored Ties: Many grooms are choosing to wear colored ties with their white dress shirts and dark suits.
Conclusion: Looking Sharp
for the Wedding Many people feel that men should wear a suit to a wedding. In reality, however, they are free to wear whatever they want. If you want to wear a suit, great! If you want to wear a tuxedo, that's fine too. If you don't want to wear a suit or tuxedo, there are plenty of other options available. Just make sure you look appropriate for the event.
Frequently Asked Questions (FAQs)
What shirt do I wear with my kilts?
A kilt can be worn with a formal dress shirt in white. This combination is a classic and creates an elegant look.
Can I wear casual shirt with my kilt?
You can wear a casual t-shirt with a kilt to create a relaxed, contemporary look. Choose a shirt in contrasting colors or patterns that is well-fitted and complements your kilt.
What is the best type of collar to wear with a kilt?
A wing collar, or a classical collar, is the best choice for a shirt to wear with a kilt. These collars emphasize the formal, elegant nature of kilt clothing.
Should a shirt be tucked into a kilt or untucked?
When wearing a kilt, it is common to tuck the shirt in. The shirt is neatly tucked in, which adds to the overall appearance.
What shirt accessories should I wear with my kilts?
Consider adding necktie and bowtie to your shirt as an accessory. Tartan accessories will add a Scottish touch to your outfit.
What type of shirt should I wear with my kilt?
The most common and traditional shirts worn with kilts is the ghillie shirt. These shirts are usually made from a lightweight, breathable material like cotton or linen. They also feature a laced-up front. Ghillie shirts are collarless and worn with a kilt to achieve the traditional Scottish look.
Can I wear my regular dress shirt under a kilt?
It is possible to wear an ordinary dress shirt with a Kilt, especially if your style is more formal or modern. It is important to select a dress shirt that complements your kilt's color and pattern. Dress shirts in crisp white are popular, but you can experiment with different colors and patterns that suit your style.
What jacket can I wear with a shirt and kilt?
There are a few jacket options to choose from when pairing a kilt with a shirt. Prince Charlie jackets are the most traditional, featuring a shorter length with decorative buttons and a high collar. The Argyle jacket is another option. It features diamond-shaped patterns with ornate buttons. Both jackets can be worn to formal events. You can choose a leather or tweed jacket for a more casual appearance, depending on your overall style.
Can vests be worn with kilts or shirts?
Vests are worn with kilts, shirts and other clothing to enhance the look. A kilt waistcoat or vest is a popular option. These vests, which are often made from fabrics that match or complement the kilt, add an extra layer to style and sophistication. You can choose a different style vest, like a tartan waistcoat or tweed waistcoat depending on your personal preference and the occasion.
Can I wear a T-shirt with a Kilt?
It is possible to wear an oversized t-shirt under a kilt, but it is not considered formal or traditional attire. It is important that you choose a tee shirt that matches the style and color of your kilt. Graphic tees and plain solid-colored shirts are both suitable, but you must ensure that the outfit is balanced and cohesive.
Checkout: Wearing the Kilt for the First Time: Scotland vs America