Do you want to stand out at your wedding? Kilts are a stylish option. The kilt is a traditional Scottish dress that oozes elegance and charm. Kilts are a great way to make a statement at weddings. We will look at some of the best kilts for weddings in this article. Let's discover your perfect kilt outfit for the big day.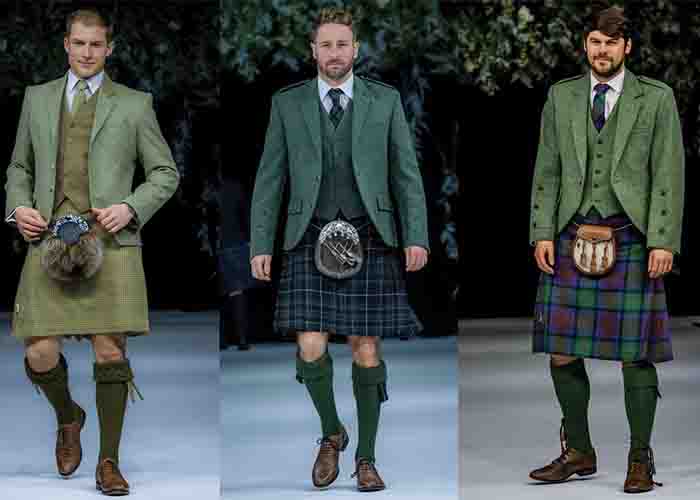 The following is a brief introduction to the topic:
Weddings can be a joyous occasion that calls for style and celebration. A kilt is a great choice if you're looking to make an impact with your fashion. Kilts not only have a rich tradition, but they also provide a sophisticated and versatile look. You can show off your personal style and heritage. Explore some stylish kilts outfits perfect for weddings.
Prince Charlie's Classic Outfit
This outfit, which is perfect for weddings and formal occasions, is timeless. The outfit includes a Prince Charlie black jacket, white shirt with a formal bow, five-button waistcoat and sporran. The jackets are usually decorated with silk lapels, silver buttons and epaulets. The jacket is worn along with a tartan kilt.
Modern Argyll Jacket Ensemble
The Argyll ensemble offers a modern twist. The Argyll Jacket is a relaxed-fitting jacket that's often made of tweed, or other textured fabric. The Argyll jacket is worn with a sporran, a ruche or tie, a waistcoat and formal shirt. The Argyll suit is a comfortable and stylish option for both grooms and guests.
Scottish tartans
The tartan is an important part of Scottish culture. Adding it to your outfit will add authenticity and symbolism. Each tartan pattern represents a particular clan or family. Choose a pattern that has personal meaning or a general tartan to complement your wedding colors.
Modern Tweed Kilts
In recent years, tweed kilts gained in popularity due to the sophisticated and modern appeal. These kilts are a visually and textured alternative to the traditional ones. The tweed kilt is often combined with jackets in solid colors and other accessories for a stylish and well-balanced ensemble. For a stylish look, consider incorporating a wedding outfit with a tweed-kilt.
Accessorizing Your Kilt Outfit
Select accessories to complete the look of your kilt. Choose a stylish leather or fur sporran to hold your essentials. Select a belt or buckle with a design that matches the color of your outfit or tartan. Wear sgian dubhs or tartan flashes as well as kilts pins.
Shoes and socks for Kilts
The right shoes are essential to completing your Kilt Outfit. Ghillie Brogues in black leather are preferred for formal events. The traditional Scottish shoe features long, crisscrossed laces. Your socks should match the kilt or outfit you are wearing, since they can be seen when sitting down or walking.
The Right Sporran
A sporran can be a very important accessory to a kilt. The sporran is not just functional, but it also adds aesthetic value. There are many different styles of sporrans, such as full-dressed, semi-dressed, or day sporrans. Choose a sporran to match your attire according to the formality and style of your wedding.
Jackets and Waistcoats Stylish
The jackets and waistcoats are essential to the look of a kilt. Depending on the occasion and your style, you may choose from Argyll, tweed, or traditional Prince Charlie jackets. Choose waistcoats in colors that complement or match your jacket and kilt to create a stylish and cohesive look.
The Kilt for Wedding Themes
Kilts are available in a variety of styles to match different wedding themes. Consider pairing your kilt and casual shirt with a jacket made of tweed for a rustic wedding or an outdoor ceremony. A linen shirt with a light kilt is more appropriate for a beach ceremony. For a stylish and harmonious look, make sure that the kilt you choose is in line with the theme of your wedding.
Tartans for the family
Wearing your family tartan on your wedding is an excellent way to honour your heritage. Your family tartan is a way to honor your heritage and give a personal touch to the kilt. Include your family's tartan in your jacket or other accessories for a personalized and unique look.
Kilt for Grooms
It's important to make a statement on your big day. You might want to choose a slightly more unique kilt than the groomsmen. You can achieve this by choosing a tartan that is different, wearing a jacket with a distinct style, or wearing another sporran. This subtle distinction will make you the focus of attention as the groom.
Kilt for groomsmen
The groomsmen's attire can be coordinated to the outfit of the groom while still maintaining an overall cohesive appearance. Select a pattern of tartan that matches the color scheme for the wedding. Coordinate the accessories, jackets and waistcoats to give a uniform look. The wedding party will look well coordinated and visually appealing.
Style the Kilts for Women Attendees
Women can wear kilts in a stylish way. A kilt dress can be worn by women with tailored jackets or blouses. They can also wear a Kilt Dress, combining the elegant look of a gown with the uniqueness of the kilt. This allows female guests to wear kilts and embrace their style in a more feminine manner.
The conclusion of the article is:
The stylish kilts outfits are a great way to combine tradition with fashion. Whether it's a Prince Charlie ensemble or a more modern Argyll Jacket outfit, adding family tartans to your kilts will give you a truly elegant and unique look. You can achieve a stylish and cohesive ensemble by carefully choosing accessories, jackets and shoes. This will reflect your style and heritage.
FAQs
Kilts are only appropriate for Scottish weddings?
Kilts are acceptable for weddings, regardless of location and cultural background. The kilts add an element of elegance and tradition to any ceremony.
How can I customize my kilt?
You can customize your kilt by choosing unique jackets, waistcoats, and accessories.
Kilts are comfortable to wear.
Kilts allow for freedom of movement and comfort. The kilts are tailored and made of high-quality material.
What is the best size to choose for my kilts?
It's important to give accurate measurements when ordering a Kilt. This includes your desired length, waist, hip, and thigh size. It ensures that the kilt will fit properly.
What if I am not Scottish?
Absolutely! Kilts do not only belong to people of Scottish descent. Kilts can be worn anywhere by those who love their style.